Skip to Content
If These Walls Could Talk
Our History
A rich and illustrious past is what makes The Culver Hotel so enchanting. From legendary ownership to memorable guests, our hotel tells stories – mischievous munchkins, secret passageways, and high stake poker games are all woven into the fabric of our history. As a National Historic Landmark almost a century in the making, The Culver Hotel gracefully retains a nostalgia of days long past and remains a true icon.
1917
"All Roads Lead To Culver City"
- Harry H. Culver
Mr. Culver, originally from Nebraska had travelled much of the world before settling in California, falling in love with the land as well as an aspiring silent film actress. He announced his dream to build Culver City in a perfect location between Abbott Kinney's new Venice canals and Downtown L.A. In 1917, he founded his namesake town, he was 37 years old. In 1924 he erected the Hotel Hunt, now The Culver Hotel, to house his offices and large sales force. He lured filmmakers into his young city to start a new local economy which is how Culver City came to be a mecca for studios and Hollywood's main counterpart. Not only an avid entrepreneur and visionary, Harry Culver was a dedicated philanthropist. He built a military academy and donated land to develop The Loyola Marymount University. He loved horses, flew planes, held events like free picnics and prettiest baby contests and gave over 600 speeches. Known for his innovative style and free spirit, he led tours with boxed lunches while advertising his favorite slogan "All Roads Lead to Culver City."
1920
The Heart of
Screenland
Harry Culver played a vital role in enticing industry moguls such as Thomas Ince and Hal Roach to build studios in his backyard. Since the 1920's, Culver City has been a significant center for motion picture and later television production, in part because it was home to MGM Studios for many years. Hundreds of films and tv series have been shot in and around The Culver Hotel, from the Laurel and Hardy classics to some of the most recent blockbusters. The city's "Heart of Screenland" legacy also includes Cecil B. DeMille's studio, David O. Selznick Studios, RKO, Desilu and Culver Studios. Having been a pioneer for silent movies, Culver City is still at the forefront of the entertainment industry, now home to digital content innovators Amazon and Apple.
1924
The Skyscraper
"City packed with visitors for opening of Culver Skyscraper"
--
these were the headlines in the September 4th, 1924 Culver City Daily News. Los Angeles firm Curlett and Beelman was selected by Mr. Culver to build what was called "the latest monument to his vision". The same architects built several other noteworthy landmarks in the Los Angeles area such as the MacArthur, Eastern Columbia and Roosevelt Buildings as well as the Thalberg Administration Building at Sony in Culver City. When Harry Culver decided to construct the Culver Hotel on what has been called "the shortest Main Street in the USA," he created a "wedge-shaped Renaissance revival-style beauty, fashioned with sculpted stone, brick, ornate overhanging eaves and 200 magnificent windows." Considered a luxury property in its day, the hotel was advertised as having "150 modern apartments for everyone to enjoy" even though each floor offered only one bathroom at the time, surely creating a frantic morning scene. Today, the Culver Hotel offers forty six luxe guestrooms, however guests can still discover glimpses of the past and original details throughout the property. The Culver Hotel was placed on the National Register of Historic Places in 1997.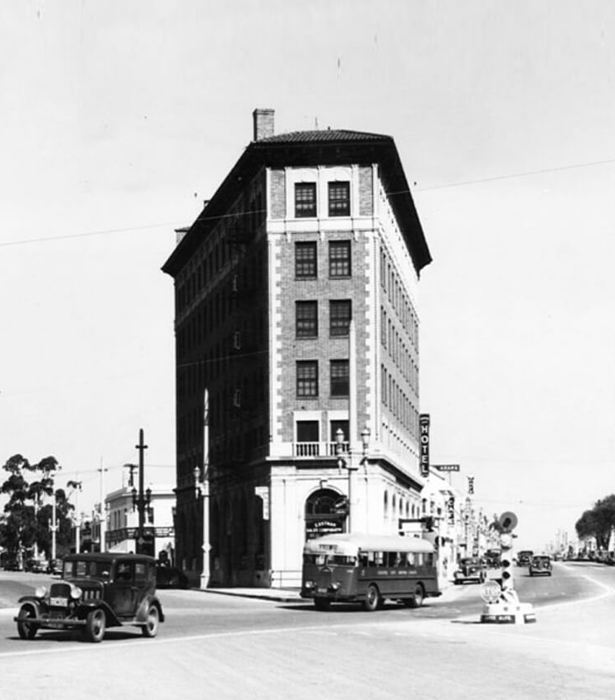 Party of the Century
In celebration of Culver City's 100th birthday and the 10th anniversary of The Culver Hotel's impressive revitalization, over five hundred glamorous guests attended an unforgettable black-tie vintage masquerade. The historic evening was filled with era-centric themes, including live jazz bands, lavish performances, signature cocktails and delicious eats. In line with our continuous spirit of collaboration with the community, the hotel featured a mini pop-up museum themed 'Then and Now' showcasing highlights of Culver City's interesting history and current day innovation. Extravagant costumes exuding elegance, artfulness and old-world glamour perfectly complemented the hotel's vintage meets modern interiors.
Spirits and Secrets
An eclectic clientele, intriguing past and the passage of time have led some to question the stories and legends that surround our almost century old landmark. For amateur ghost seekers or historically inspired guests, The Culver Hotel remains a spirited place with an energetic soul. Others believe that an underground tunnel was built to usher the 'Munchkin' actors to their set at the nearby studios, as well as to ferry alcohol during the Prohibition. While we have our own theories, we invite you to visit and use your imagination.




Hollywood Legends and Ownership
Alongside the rich history of the Culver Hotel are the enticing stories that surround its ownership. While Harry Culver and Charlie Chaplin co-built the hotel, legend has it that Chaplin sold it to the "Duke," Mr. John Wayne, for a dollar in a poker game. Tinsel town mogul Red Skelton is also rumored to have been a proprietor. There was a period of neglect for several decades where the property was boarded up and children were told to stay away which was a fate many other historical buildings at the time had succumbed to. It was not until 2007, that the hotel started to rise again towards a true revitalization. With the right mix of history, design and hospitality The Culver Hotel was able to shine once again.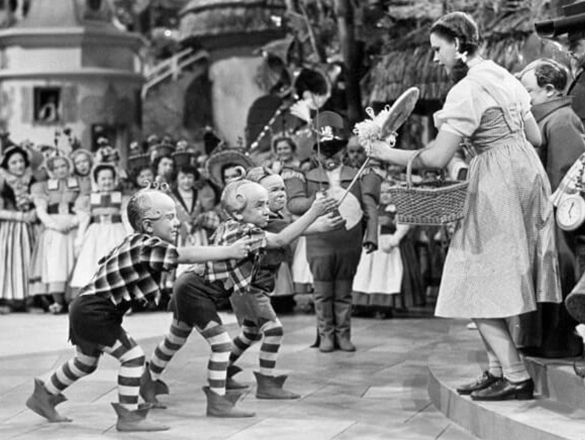 Famous and Infamous Guests
With legendary guests including Greta Garbo, Clark Gable and even Ronald Reagan, to present day Hollywood royalty The Culver Hotel's celebrity game is strong. Most famously nearly all of the 124 'Munchkins' resided here during the filming of The Wizard of Oz supposedly throwing debaucherous parties and sleeping three to a bed. Today our guests shouldn't be surprised if they bump into Francis Ford Coppola chatting with an interviewer, Reese Witherspoon posing for a photo shoot or John Legend giving an impromptu piano performance on our patio.